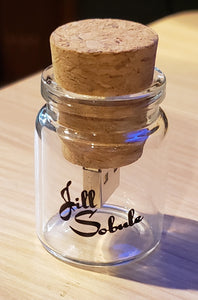 WOW!
Almost 200 of Jill's songs in a bottle (and USB flash drive), including:
All albums (now including Nostalgia Kills and Jill Comes Alive!)

B-sides
Live tracks
Rejects
Guest stars! ("I Kissed a Girl" with Warren Zevon, "All The Young Dudes" with Billy Bragg, and Cyndi Lauper with Jill on "Mexican Wrestler")
Just think of it: over eleven hours of awesome music on a flash drive embedded in cork with a matching logo bottle.
It's a bargain! It's a good time! And it's newly updated! Get yours today!