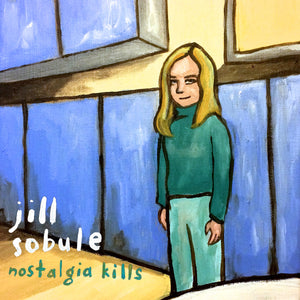 Jill's 2018 release! On Nostalgia Kills, the woman hailed by The New York Times for making "grown-up music for an adolescent age" turns her warm wit and poet's eye on herself more than ever before, revisiting moments throughout her life that made her into the person she is today. It's an especially poignant look back at childhood — "exorcising some junior high school demons," as she puts it.
Produced by her good friend, Australian singer-songwriter Ben Lee, the music on Nostalgia Kills has been chosen from a collection of over 100 songs, representing nearly a decade's worth of material since the release of her last proper solo album, California Years (2009).
The album was recorded at Lee's home studio in Los Angeles with a supporting cast of players that included John Doe (X), Wayne Kramer (The MC5), Petra Haden (That Dog), Roger Joseph Manning Jr. (Jellyfish), and Richard Barone (The Bongos). "This was done with a lot of friends," she says. "It was very organic." Many of the final mixes have elements of the original demos, recorded with various apps on Jill's iPad.
Nostalgia Kills proves that Sobule is still at the peak of her powers. How many artists of any age can write a song like "I Don't Wanna Wake Up," an Old Testament head trip inspired by a bad breakup, the death of a parent, and microdosing mushrooms, let alone have the nerve to make it their album's opening track?
From there, the album ponders the past without ever lapsing into easy sentimentality. "Almost Great" is a ukulele-laced ode to youthful brushes with success and adult battles with procrastination. "Forbidden Thoughts of Youth" is a beautifully rendered portrait of adolescent unrequited love, as Jill looks back at her first gay crush ("an incredible combination of Marcia Brady and future meth-smoking biker chick").
"Headphones" and "Forbidden Thoughts" will be part of #Fuck7thGrade, a one-woman show commissioned by The City Theater in Pittsburgh, about "the worst year of my life," and just the latest of Jill's many forays into theater.
Looking back is a new experience for Jill Sobule. Ever since she first caught mainstream attention with her 1995 song "I Kissed a Girl" — the first song about same-sex romance ever to crack the Billboard Top 20 (and no relation to the later Katy Perry tune) — she's always pushed forward, exploring new sounds and subject matter with each passing album and refusing to be pigeonholed by her early hits (which also include the '90s alt-rock anthem "Supermodel," featured in an iconic scene in the film Clueless).
For all its graceful, funny and heartbreaking explorations of awkward youth and grown-up regrets, Nostalgia Kills is as of-the-moment as anything in Jill's catalog. Through her own experiences, she explores issues our society still collectively struggles with (LGBTQ rights, teen mental health, our unhealthy obsession with staying forever young) and gently skewers our tendency to dwell on the past at the expense of addressing the present. As she sings on the title track: "We look at ourselves in a long row of mirrors / We get smaller and smaller with each passing year / We have to keep moving or die."
Includes these tracks:
I Don't Wanna Wake Up
Where Do I Begin
I Put My Headphones On
Island of Lost Things
Nostalgia Kills
Tomorrow is Breaking
There's Nothing I Can Do
25 Cents (The End Is Near)
The Party's Over, Party Girl
Forbidden Thoughts Of Youth
Almost Great
O-o-h Child
Tomorrow is Breaking (Alternate Fan Duet)
The Donor Song
Don't Let Us Get Sick